Pipes are usually used to transport media over longer distances. Liquids, gases, but also solids are moved here.

In mechanical engineering, tubes are structural elements.
Our pipes are used in the energy supply, chemical industry as well as apparatus engineering and shipbuilding. We serve here from stock as well as factory new production.
Seamless steel pipes EN 10210-1, certificate EN 10204/3.1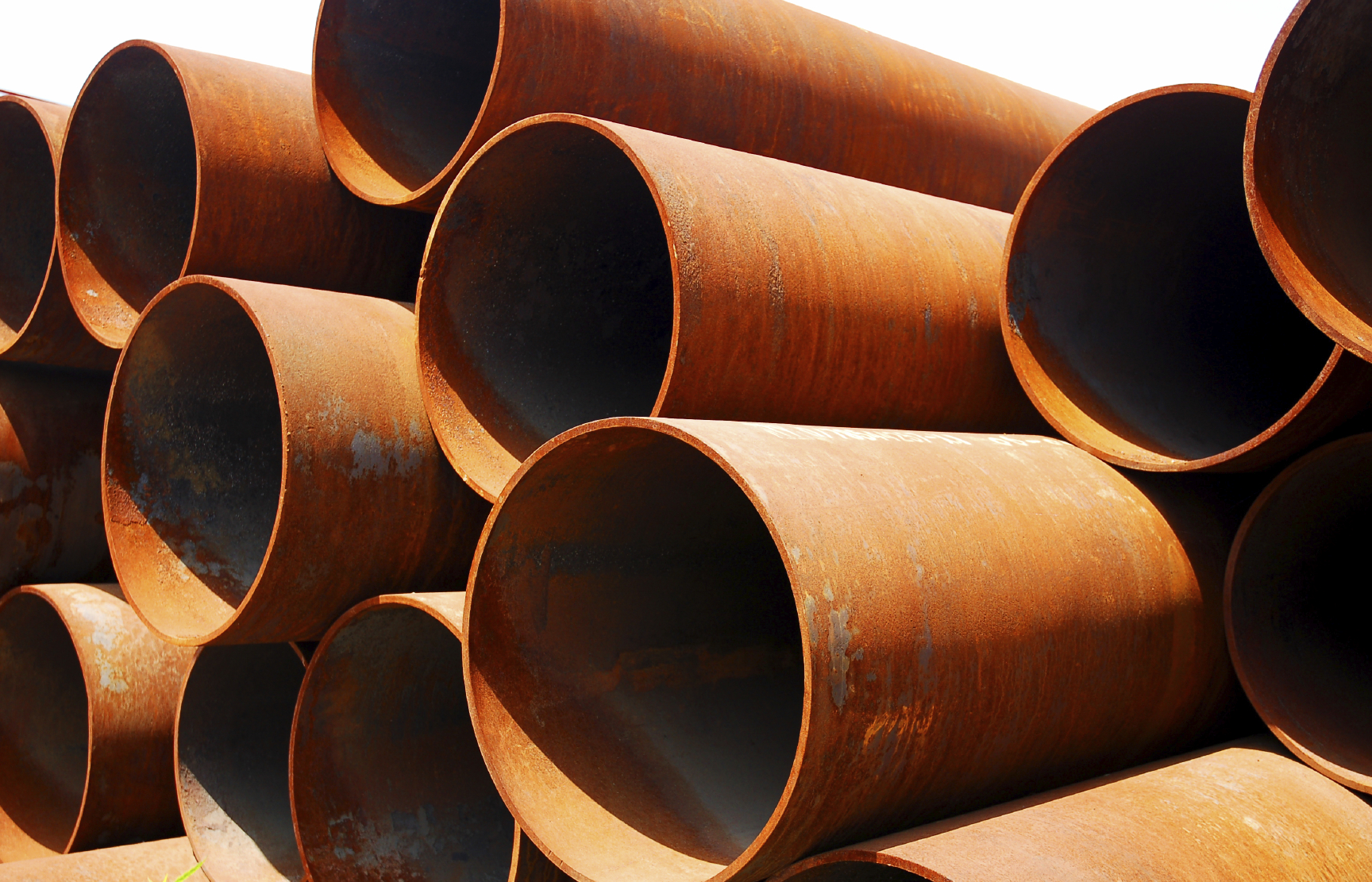 Overview
Outer diameter
13,50
– 610 mm
Wall thicknesses 1.0 –
100
mm
Lengths 5000 – 13000 mm
Materials
1.0576 / S355J2H
1.0565 / P355
Nahtlose Stahlrohre EN 10210-1, APZ EN 10204/3.1
Abmessung
Gewicht
kg/mtr.
S355J2H
P355
13,5 x 2,3
0.64
●
●
13,5 x 2,6
0.70
●
●
21,3 x 2,3
1.08
●
●
21,3 x 2,6
1.20
●
●
21,3 x 2,9
1.32
●
●
21,3 x 3,2
1.43
●
●
21,3 x 4
1.71
●
●
21,3 x 5
2.01
●
●
25 x 2,3
1.29
●
●
25 x 2,6
1.44
●
●
25 x 2,9
1.58
●
●
25 x 3,2
1.72
●
●
25 x 4
2.07
●
●
25 x 5
2.47
●
●
26,9 x 2,6
1.56
●
●
26,9 x 2,9
1.72
●
●
26,9 x 3,2
1.87
●
●
26,9 x 4
2.26
●
●
26,9 x 4,5
2.49
●
●
26,9 x 5
2.70
●
●
26,9 x 6,3
3.20
●
●
26,9 x 7,1
3.47
●
●
30 x 2,9
1.94
●
●
30 x 3,2
2.11
●
●
30 x 3,6
2.34
●
●
30 x 4
2.56
●
●
30 x 5
3.08
●
●
30 x 6,3
3.68
●
●
30 x 8
4.34
●
●
31,8 x 2,9
2.07
●
●
31,8 x 3,2
2.26
●
●
31,8 x 4
2.74
●
●
31,8 x 5
3.30
●
●
31,8 x 7,1
4.32
●
●
31,8 x 8
4.70
●
●
33,7 x 2,9
2.20
●
●
33,7 x 3,2
2.41
●
●
33,7 x 4
2.93
●
●
33,7 x 4,5
3.24
●
●
33,7 x 5
3.54
●
●
33,7 x 5,6
3.88
●
●
33,7 x 6,3
4.26
●
●
33,7 x 7,1
4.66
●
●
35 x 5
3.70
●
●
38 x 3,2
2.75
●
●
33,7 x 3,6
2.67
●
●
33,7 x 4
2.93
●
●
33,7 x 5
3.54
●
●
33,7 x 6,3
4.26
●
●
33,7 x 7,1
4.66
●
●
33,7 x 8
5.07
●
●
33,7 x 10
5.84
●
●
42,4 x 3,2
3.09
●
●
42,4 x 3,6
3.44
●
●
42,4 x 4
3.79
●
●
42,4 x 5
4.61
●
●
42,4 x 6,3
5.61
●
●
42,4 x 7,1
6.18
●
●
42,4 x 8
6.79
●
●
42,4 x 10
7.99
●
●
42,4 x 11
8.52
●
●
44,5 x 3,2
3.26
●
●
44,5 x 3,6
3.63
●
●
44,5 x 4
4.00
●
●
44,5 x 5
4.87
●
●
44,5 x 6,3
5.94
●
●
44,5 x 7,1
6.55
●
●
44,5 x 8
7.20
●
●
44,5 x 10
8.51
●
●
48,3 x 3,2
3.56
●
●
48,3 x 3,6
3.97
●
●
48,3 x 4
4.37
●
●
48,3 x 5
5.34
●
●
48,3 x 6,3
6.53
●
●
48,3 x 7,1
7.21
●
●
48,3 x 8
7.95
●
●
48,3 x 10
9.45
●
●
48,3 x 12,5
11.04
●
●
51 x 3,2
3.77
●
●
51 x 3,6
4.21
●
●
51 x 4
4.64
●
●
51 x 5
5.67
●
●
51 x 6,3
6.94
●
●
51 x 7,1
7.69
●
●
51 x 8
8.48
●
●
51 x 10
10.11
●
●
51 x 12,5
11.87
●
●
51 x 14,2
12.89
●
●
54 x 5
6.04
●
●
54 x 6,3
7.41
●
●
54 x 7,1
8.21
●
●
54 x 8
9.08
●
●
54 x 10
10.85
●
●
54 x 12,5
12.79
●
●
57 x 3,2
4.25
●
●
57 x 3,6
4.74
●
●
57 x 4
5.23
●
●
57 x 5
6.41
●
●
57 x 6,3
7.88
●
●
57 x 7,1
8.74
●
●
57 x 8
9.67
●
●
57 x 10
11.59
●
●
57 x 12,5
13.72
●
●
57 x 14,2
14.99
●
●
57 x 16
16.18
●
●
60,3 x 3,6
5.03
●
●
60,3 x 4
5.55
●
●
60,3 x 5
6.82
●
●
60,3 x 6,3
8.39
●
●
60,3 x 7,1
9.32
●
●
60,3 x 8
10.32
●
●
60,3 x 10
12.40
●
●
60,3 x 12,5
14.74
●
●
60,3 x 14,2
16.14
●
●
60,3 x 16
17.48
●
●
60,3 x 17,5
18.47
●
●
63,5 x 3,6
5.32
●
●
63,5 x 4
5.87
●
●
63,5 x 5
7.21
●
●
63,5 x 6,3
8.89
●
●
63,5 x 7,1
9.88
●
●
63,5 x 8
10.95
●
●
63,5 x 10
13.19
●
●
63,5 x 12,5
15.72
●
●
63,5 x 14,2
17.26
●
●
63,5 x 16
18.74
●
●
70 x 3,6
5.90
●
●
70 x 4
6.51
●
●
70 x 5
8.01
●
●
70 x 6,3
9.90
●
●
70 x 7,1
11.01
●
●
70 x 8
12.23
●
●
70 x 10
14.80
●
●
70 x 12,5
17.73
●
●
70 x 14,2
19.54
●
●
70 x 16
21.31
●
●
70 x 20
24.66
●
●
76,1 x 3,6
6.44
●
●
76,1 x 4
7.11
●
●
76,1 x 5
8.77
●
●
76,1 x 6,3
10.84
●
●
76,1 x 7,1
12.08
●
●
76,1 x 8
13.44
●
●
76,1 x 10
16.30
●
●
76,1 x 12,5
19.61
●
●
76,1 x 14,2
21.68
●
●
76,1 x 16
23.71
●
●
76,1 x 20
27.67
●
●
82,5 x 4
7.74
●
●
82,5 x 5
9.56
●
●
82,5 x 6,3
11.84
●
●
82,5 x 7,1
13.20
●
●
82,5 x 8
14.70
●
●
82,5 x 10
17.88
●
●
82,5 x 12,5
21.58
●
●
82,5 x 14,2
23.92
●
●
82,5 x 16
26.24
●
●
82,5 x 20
30.83
●
●
82,5 x 22,2
33.01
●
●
88,9 x 3,6
7.57
●
●
88,9 x 4
8.38
●
●
88,9 x 5
10.35
●
●
88,9 x 6,3
12.83
●
●
88,9 x 7,1
14.32
●
●
88,9 x 8
15.96
●
●
88,9 x 10
19.46
●
●
88,9 x 12,5
23.55
●
●
88,9 x 14,2
26.16
●
●
88,9 x 16
28.77
●
●
88,9 x 20
33.98
●
●
88,9 x 22,2
36.52
●
●
88,9 x 25
39.40
●
●
95 x 4
8.98
●
●
95 x 5
11.10
●
●
95 x 8
17.16
●
●
95 x 10
20.96
●
●
95 x 12,5
25.43
●
●
95 x 14,2
28.30
●
●
95 x 16
31.17
●
●
95 x 17,5
33.45
●
●
95 x 20
36.99
●
●
95 x 22,2
39.86
●
●
95 x 25
43.16
●
●
101,6 x 4
9.63
●
●
101,6 x 5
11.91
●
●
101,6 x 8
18.47
●
●
101,6 x 10
22.59
●
●
101,6 x 12,5
27.47
●
●
101,6 x 14,2
30.61
●
●
101,6 x 16
33.78
●
●
101,6 x 17,5
36.30
●
●
101,6 x 20
40.25
●
●
101,6 x 22,2
43.47
●
●
101,6 x 25
47.23
●
●
101,6 x 30
52.97
●
●
108 x 4
10.26
●
●
108 x 5
12.70
●
●
108 x 8
19.73
●
●
108 x 10
24.17
●
●
108 x 12,5
29.44
●
●
108 x 14,2
32.85
●
●
108 x 16
36.30
●
●
108 x 17,5
39.06
●
●
108 x 20
43.40
●
●
108 x 22,2
46.97
●
●
108 x 25
51.17
●
●
108 x 30
57.71
●
●
114,3 x 4
10.88
●
●
114,3 x 5
13.48
●
●
114,3 x 8
20.97
●
●
114,3 x 10
25.72
●
●
114,3 x 12,5
31.38
●
●
114,3 x 14,2
35.05
●
●
114,3 x 16
38.79
●
●
114,3 x 17,5
41.78
●
●
114,3 x 20
46.51
●
●
114,3 x 22,2
50.42
●
●
114,3 x 25
55.06
●
●
114,3 x 28
59.59
●
●
114,3 x 30
62.37
●
●
121 x 4
11.54
●
●
121 x 5
14.30
●
●
121 x 8
22.29
●
●
121 x 10
27.37
●
●
121 x 12,5
33.45
●
●
121 x 14,2
37.40
●
●
121 x 16
41.43
●
●
121 x 17,5
44.67
●
●
121 x 20
49.82
●
●
121 x 22,2
54.09
●
●
121 x 25
59.19
●
●
121 x 28
64.22
●
●
121 x 30
67.33
●
●
121 x 36
75.46
●
●
127 x 5
15.04
●
●
127 x 8
23.48
●
●
127 x 10
28.85
●
●
127 x 12,5
35.30
●
●
127 x 14,2
39.50
●
●
127 x 16
43.80
●
●
127 x 17,5
47.26
●
●
127 x 20
52.78
●
●
127 x 22,2
57.38
●
●
127 x 25
62.89
●
●
127 x 28
68.36
●
●
127 x 30
71.76
●
●
133 x 5
15.78
●
●
133 x 8
24.66
●
●
133 x 10
30.33
●
●
133 x 12,5
37.15
●
●
133 x 14,2
41.60
●
●
133 x 16
46.17
●
●
133 x 17,5
49.85
●
●
133 x 20
55.73
●
●
133 x 22,2
60.66
●
●
133 x 25
66.59
●
●
133 x 28
72.50
●
●
133 x 30
76.20
●
●
133 x 36
86.12
●
●
133 x 40
91.74
●
●
139,7 x 5
16.61
●
●
139,7 x 8
25.98
●
●
139,7 x 10
31.99
●
●
139,7 x 12,5
39.21
●
●
139,7 x 14,2
43.95
●
●
139,7 x 16
48.81
●
●
139,7 x 17,5
52.74
●
●
139,7 x 20
59.04
●
●
139,7 x 22,2
64.33
●
●
139,7 x 25
70.72
●
●
139,7 x 28
77.13
●
●
139,7 x 30
81.16
●
●
139,7 x 36
92.07
●
●
139,7 x 40
98.35
●
●
146 x 6,3
21.70
●
●
146 x 8
27.23
●
●
146 x 10
33.54
●
●
146 x 12,5
41.15
●
●
146 x 14,2
46.16
●
●
146 x 16
51.30
●
●
146 x 20
62.15
●
●
146 x 25
74.60
●
●
146 x 30
85.82
●
●
146 x 36
97.66
●
●
152,4 x 6,3
22.70
●
●
152,4 x 8
28.49
●
●
152,4 x 10
35.12
●
●
152,4 x 12,5
43.13
●
●
152,4 x 14,2
48.40
●
●
152,4 x 16
53.82
●
●
152,4 x 20
65.30
●
●
152,4 x 25
78.55
●
●
152,4 x 30
90.56
●
●
152,4 x 36
103.34
●
●
152,4 x 40
110.88
●
●
159 x 6,3
23.72
●
●
159 x 8
29.79
●
●
159 x 10
36.75
●
●
159 x 12,5
45.16
●
●
159 x 14,2
50.71
●
●
159 x 16
56.43
●
●
159 x 20
68.56
●
●
159 x 25
82.62
●
●
159 x 30
95.44
●
●
159 x 36
109.20
●
●
159 x 40
117.39
●
●
165,1 x 14,2
52.84
●
●
165,1 x 16
58.83
●
●
165,1 x 20
71.57
●
●
165,1 x 25
86.38
●
●
165,1 x 30
99.95
●
●
165,1 x 36
114.62
●
●
165,1 x 40
123.41
●
●
168,3 x 6,3
25.17
●
●
168,3 x 7,1
28.23
●
●
168,3 x 8
31.63
●
●
168,3 x 10
39.04
●
●
168,3 x 12,5
48.03
●
●
168,3 x 14,2
53.96
●
●
168,3 x 16
60.10
●
●
168,3 x 20
73.15
●
●
168,3 x 25
88.35
●
●
168,3 x 30
102.32
●
●
168,3 x 36
117.46
●
●
168,3 x 40
126.56
●
●
177,8 x 6,3
26.65
●
●
177,8 x 7,1
29.89
●
●
177,8 x 8
33.50
●
●
177,8 x 10
41.38
●
●
177,8 x 12,5
50.96
●
●
177,8 x 14,2
57.29
●
●
177,8 x 16
63.84
●
●
177,8 x 20
77.83
●
●
177,8 x 25
94.21
●
●
177,8 x 30
109.35
●
●
177,8 x 36
125.89
●
●
177,8 x 40
135.93
●
●
177,8 x 45
147.38
●
●
193,7 x 6,3
29.12
●
●
193,7 x 7,1
32.67
●
●
193,7 x 8
36.64
●
●
193,7 x 10
45.30
●
●
193,7 x 12,5
55.86
●
●
193,7 x 14,2
62.86
●
●
193,7 x 16
70.12
●
●
193,7 x 20
85.67
●
●
193,7 x 25
104.01
●
●
193,7 x 30
121.11
●
●
193,7 x 36
140.01
●
●
193,7 x 40
151.62
●
●
193,7 x 45
165.02
●
●
193,7 x 50
177.19
●
●
193,7 x 60
197.83
●
●
203 x 7,1
34.30
●
●
203 x 8
38.47
●
●
203 x 10
47.60
●
●
203 x 12,5
58.73
●
●
203 x 14,2
66.12
●
●
203 x 16
73.79
●
●
203 x 20
90.26
●
●
203 x 25
109.74
●
●
203 x 30
127.99
●
●
203 x 36
148.26
●
●
203 x 40
160.79
●
●
203 x 45
175.34
●
●
203 x 50
188.66
●
●
216 x 8
41.04
●
●
216 x 10
50.80
●
●
216 x 12,5
62.73
●
●
216 x 14,2
70.67
●
●
216 x 16
78.92
●
●
216 x 20
96.67
●
●
216 x 25
117.76
●
●
216 x 30
137.61
●
●
216 x 36
159.81
●
●
216 x 40
173.62
●
●
216 x 45
189.77
●
●
219,1 x 7,1
37.12
●
●
219,1 x 8
41.65
●
●
219,1 x 10
51.57
●
●
219,1 x 12,5
63.69
●
●
219,1 x 14,2
71.75
●
●
219,1 x 16
80.14
●
●
219,1 x 20
98.20
●
●
219,1 x 25
119.67
●
●
219,1 x 30
139.90
●
●
219,1 x 36
162.56
●
●
219,1 x 40
176.67
●
●
219,1 x 45
193.21
●
●
219,1 x 50
208.51
●
●
229 x 6,3
34.60
●
●
229 x 12,5
66.74
●
●
229 x 14,2
75.22
●
●
229 x 16
84.05
●
●
229 x 20
103.09
●
●
229 x 25
125.77
●
●
229 x 30
147.23
●
●
229 x 36
171.35
●
●
229 x 40
186.44
●
●
241 x 16
88.78
●
●
241 x 38
190.24
●
●
244,5 x 8
46.66
●
●
244,5 x 10
57.83
●
●
244,5 x 12,5
71.52
●
●
244,5 x 14,2
80.65
●
●
244,5 x 16
90.16
●
●
244,5 x 20
110.73
●
●
244,5 x 25
135.33
●
●
244,5 x 30
158.70
●
●
244,5 x 36
185.11
●
●
244,5 x 40
201.73
●
●
244,5 x 45
221.40
●
●
244,5 x 50
239.83
●
●
244,5 x 60
273.00
●
●
254 x 8
48.53
●
●
254 x 10
60.17
●
●
254 x 12,5
74.45
●
●
254 x 14,2
83.98
●
●
254 x 16
93.91
●
●
254 x 20
115.42
●
●
254 x 25
141.19
●
●
254 x 30
165.73
●
●
254 x 36
193.54
●
●
254 x 40
211.10
●
●
254 x 45
231.94
●
●
254 x 50
251.55
●
●
267 x 6,3
40.50
●
●
267 x 7,1
45.51
●
●
267 x 8
51.10
●
●
267 x 10
63.38
●
●
267 x 12,5
78.45
●
●
267 x 14,2
88.53
●
●
267 x 16
99.04
●
●
267 x 20
121.83
●
●
267 x 25
149.20
●
●
267 x 30
175.34
●
●
267 x 36
205.09
●
●
267 x 40
223.93
●
●
267 x 45
246.37
●
●
267 x 50
267.58
●
●
267 x 60
306.30
●
●
267 x 70
340.08
●
●
273 x 7,1
46.56
●
●
273 x 8
52.28
●
●
273 x 10
64.86
●
●
273 x 12,5
80.30
●
●
273 x 14,2
90.63
●
●
273 x 16
101.41
●
●
273 x 20
124.79
●
●
273 x 25
152.90
●
●
273 x 30
179.78
●
●
273 x 36
210.41
●
●
273 x 40
229.85
●
●
273 x 45
253.03
●
●
273 x 50
274.98
●
●
273 x 60
315.17
●
●
273 x 70
350.44
●
●
273 x 80
380.77
●
●
292 x 10
69.55
●
●
292 x 12,5
86.16
●
●
292 x 14,2
97.28
●
●
292 x 16
108.91
●
●
292 x 20
134.16
●
●
292 x 25
164.62
●
●
292 x 30
193.84
●
●
292 x 36
227.28
●
●
292 x 40
248.59
●
●
292 x 45
274.11
●
●
292 x 50
298.40
●
●
298,5 x 8
57.31
●
●
298,5 x 10
71.15
●
●
298,5 x 12,5
88.16
●
●
298,5 x 14,2
99.56
●
●
298,5 x 16
111.47
●
●
298,5 x 20
137.36
●
●
298,5 x 25
168.62
●
●
298,5 x 30
198.65
●
●
298,5 x 36
233.05
●
●
298,5 x 40
255.00
●
●
298,5 x 45
281.33
●
●
298,5 x 50
306.42
●
●
298,5 x 60
352.91
●
●
298,5 x 70
394.46
●
●
298,5 x 80
431.08
●
●
305 x 12,5
90.17
●
●
305 x 14,2
101.84
●
●
305 x 16
114.03
●
●
305 x 20
140.57
●
●
305 x 25
172.63
●
●
305 x 30
203.46
●
●
305 x 36
238.82
●
●
305 x 40
261.41
●
●
305 x 45
288.54
●
●
305 x 50
314.43
●
●
305 x 60
362.52
●
●
318 x 12,5
94.18
●
●
318 x 20
146.98
●
●
318 x 25
180.65
●
●
318 x 30
213.08
●
●
318 x 36
250.36
●
●
318 x 40
274.24
●
●
318 x 45
302.97
●
●
318 x 50
330.46
●
●
318 x 60
381.76
●
●
323,9 x 8
62.32
●
●
323,9 x 10
77.41
●
●
323,9 x 12,5
95.99
●
●
323,9 x 14,2
108.45
●
●
323,9 x 16
121.49
●
●
323,9 x 20
149.89
●
●
323,9 x 25
184.28
●
●
323,9 x 30
217.44
●
●
323,9 x 36
255.60
●
●
323,9 x 40
280.06
●
●
323,9 x 45
309.51
●
●
323,9 x 50
337.74
●
●
323,9 x 60
390.49
●
●
323,9 x 70
438.31
●
●
323,9 x 80
481.20
●
●
330 x 12,5
97.88
●
●
330 x 20
152.90
●
●
343 x 17,5
140.48
●
●
343 x 20
159.31
●
●
343 x 30
231.57
●
●
343 x 55
390.64
●
●
355,6 x 10
85.23
●
●
355,6 x 12,5
105.77
●
●
355,6 x 14,2
119.56
●
●
355,6 x 16
134.00
●
●
355,6 x 20
165.53
●
●
355,6 x 25
203.83
●
●
355,6 x 30
240.89
●
●
355,6 x 36
283.75
●
●
355,6 x 40
311.33
●
●
355,6 x 45
344.69
●
●
355,6 x 50
376.83
●
●
355,6 x 60
437.40
●
●
355,6 x 70
493.03
●
●
355,6 x 80
543.74
●
●
355,6 x 100
630.35
●
●
368 x 10
88.29
●
●
368 x 12,5
109.59
●
●
368 x 14,2
123.90
●
●
368 x 16
138.89
●
●
368 x 20
171.64
●
●
368 x 25
211.47
●
●
368 x 30
250.07
●
●
368 x 36
294.75
●
●
368 x 40
323.56
●
●
368 x 45
358.45
●
●
368 x 50
392.12
●
●
368 x 60
455.74
●
●
368 x 100
660.93
●
●
381 x 17,5
156.88
●
●
381 x 20
178.06
●
●
381 x 25
219.49
●
●
381 x 30
259.69
●
●
381 x 50
408.15
●
●
394 x 50
424.18
●
●
406,4 x 10
97.76
●
●
406,4 x 12,5
121.43
●
●
406,4 x 14,2
137.35
●
●
406,4 x 16
154.05
●
●
406,4 x 20
190.58
●
●
406,4 x 25
235.15
●
●
406,4 x 30
278.48
●
●
406,4 x 36
328.85
●
●
406,4 x 40
361.44
●
●
406,4 x 45
401.07
●
●
406,4 x 50
439.47
●
●
406,4 x 60
512.56
●
●
406,4 x 100
755.63
●
●
419 x 10
100.87
●
●
419 x 12,5
125.31
●
●
419 x 14,2
141.76
●
●
419 x 16
159.02
●
●
419 x 20
196.80
●
●
419 x 30
287.80
●
●
419 x 36
340.03
●
●
419 x 40
373.87
●
●
419 x 45
415.05
●
●
419 x 50
455.00
●
●
419 x 60
531.21
●
●
419 x 80
668.82
●
●
419 x 100
786.70
●
●
445 x 30
307.04
●
●
457 x 12,5
137.03
●
●
457 x 14,2
155.07
●
●
457 x 16
174.01
●
●
457 x 20
215.54
●
●
457 x 30
315.91
●
●
457 x 36
373.77
●
●
457 x 40
411.35
●
●
457 x 45
457.22
●
●
457 x 50
501.86
●
●
457 x 60
587.44
●
●
457 x 80
743.79
●
●
457 x 100
880.42
●
●
470 x 20
221.95
●
●
470 x 30
325.53
●
●
470 x 55
562.90
●
●
508 x 2,5
31.17
●
●
508 x 12,5
152.75
●
●
508 x 14,2
172.93
●
●
508 x 16
194.14
●
●
508 x 20
240.70
●
●
508 x 30
353.65
●
●
508 x 36
419.05
●
●
508 x 40
461.66
●
●
508 x 45
513.82
●
●
508 x 50
564.75
●
●
508 x 60
662.90
●
●
508 x 80
844.41
●
●
508 x 100
1,006.19
●
●
559 x 12,5
168.47
●
●
559 x 20
265.85
●
●
559 x 30
391.38
●
●
559 x 36
464.33
●
●
559 x 40
511.97
●
●
559 x 45
570.42
●
●
559 x 50
627.64
●
●
559 x 60
738.37
●
●
559 x 70
844.16
●
●
559 x 80
945.03
●
●
559 x 100
1,131.96
●
●
610 x 12,5
184.19
●
●
610 x 20
291.01
●
●
610 x 30
429.11
●
●
610 x 36
509.61
●
●
610 x 40
562.28
●
●
622 x 25
368.07
●
●
622 x 30
437.99
●
●
622 x 40
574.12
●
●
622 x 50
705.32
●
●
660 x 50
752.18
●
●
Seamless boiler tubes EN 10216-2, certificate EN 10204/3.1 as well as 3.1 A TÜV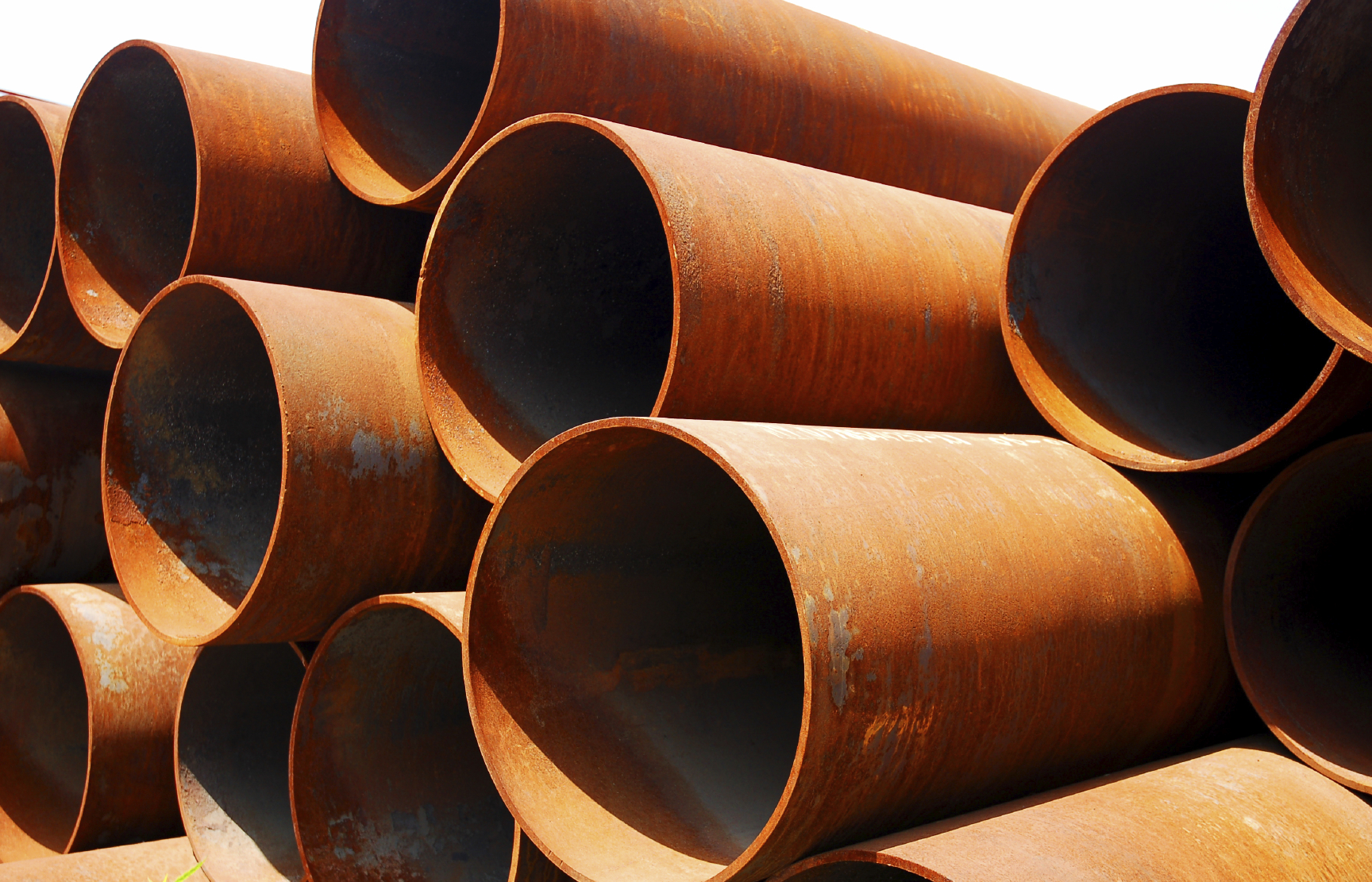 Overview
Outer diameter 10.2
–
610
mm
Wall thicknesses
1.0 – 80 mm
Lengths
5000 – 13000
mm
Materials
P235GH TC1
– also as welded pipe according to EN 10217-5
P235GH TC2
1.5415 /
16Mo3
1.7335 /
13CrMo4-5
1.7380 /
10CrMo9-10
1.4903
/
X10CrMoVNb9-1
1.4923 /
X20CrMoV11-1
Nahtlose Kesselrohre EN 10216-2, APZ EN 10204/3.1 bzw. 3.2 TÜV
Abmessung
Gewicht
kg/mtr.
St 35.8/I
P235GH TC 1
St 35.8/III
P235GH TC 2
15Mo3
16Mo3
13CrMo44
13CrMo4-5
10CrMo9.10
10CrMo9-10
10,2 x 1,6
0.34
●
●
●
●
●
10,2 x 2,0
0.40
●
●
●
●
●
10,2 x 2,3
0.45
●
●
●
10,2 x 2,6
0.49
●
13,5 x 1,8
0.52
●
●
13,5 x 2,0
0.57
●
●
13,5 x 2,3
0.64
●
13,5 x 2,6
0.70
●
13,5 x 2,9
0.76
●
13,5 x 3,2
0.81
●
13,5 x 3,6
0.88
●
16,0 x 1,8
0.63
●
●
●
●
●
16,0 x 2,0
0.69
●
●
●
●
●
16,0 x 2,3
0.78
●
●
●
16,0 x 2,6
0.86
●
16,0 x 2,9
0.94
●
16,0 x 3,2
1.01
●
16,0 x 3,6
1.10
●
16,0 x 4,0
1.18
●
17,2 x 1,8
0.68
●
●
●
●
●
17,2 x 2,0
0.75
●
●
●
●
●
17,2 x 2,3
0.85
●
●
●
●
●
17,2 x 2,6
0.94
●
●
●
17,2 x 2,9
1.02
●
17,2 x 3,2
1.10
●
17,2 x 3,6
1.21
●
●
●
17,2 x 4,0
1.30
●
17,2 x 4,5
1.41
●
20,0 x 2,0
0.89
●
●
●
●
●
20,0 x 2,3
1.00
●
●
●
●
●
20,0 x 2,6
1.12
●
●
●
●
●
20,0 x 2,9
1.22
●
●
●
20,0 x 3,2
1.33
●
20,0 x 3,6
1.46
●
20,0 x 4,0
1.58
●
20,0 x 4,5
1.72
●
20,0 x 5,0
1.85
●
21,3 x 2,0
0.95
●
●
●
●
●
21,3 x 2,3
1.08
●
●
●
●
●
21,3 x 2,6
1.20
●
●
●
●
21,3 x 2,9
1.32
●
●
●
21,3 x 3,2
1.43
●
21,3 x 3,6
1.57
●
21,3 x 4,0
1.71
●
21,3 x 4,5
1.86
●
21,3 x 5,0
2.01
●
25,0 x 2,0
1.13
●
●
●
●
●
25,0 x 2,3
1.29
●
●
●
●
●
25,0 x 2,6
1.44
●
●
●
25,0 x 2,9
1.58
●
●
●
25,0 x 3,2
1.72
●
25,0 x 3,6
1.90
●
25,0 x 4,0
2.07
●
25,0 x 4,5
2.28
●
25,0 x 5,0
2.47
●
25,0 x 5,6
2.68
●
25,0 x 6,3
2.91
●
26,9 x 2,3
1.40
●
●
●
●
●
26,9 x 2,6
1.56
●
●
●
●
●
26,9 x 2,9
1.72
●
●
●
●
26,9 x 3,2
1.87
●
26,9 x 3,6
2.07
●
26,9 x 4,0
2.26
●
26,9 x 4,5
2.49
●
26,9 x 5,0
2.70
●
26,9 x 5,6
2.94
●
26,9 x 6,3
3.20
●
26,9 x 7,1
3.47
●
30,0 x 2,6
1.76
●
●
●
●
●
30,0 x 2,9
1.94
●
●
●
30,0 x 3,2
2.11
●
●
●
30,0 x 3,6
2.34
●
30,0 x 4,0
2.56
●
30,0 x 4,5
2.83
●
30,0 x 5,0
3.08
●
30,0 x 5,6
3.37
●
30,0 x 6,3
3.68
●
30,0 x 7,1
4.01
●
31,8 x 2,6
1.87
●
●
●
●
31,8 x 2,9
2.07
●
●
●
31,8 x 3,2
2.26
●
●
31,8 x 3,6
2.50
●
31,8 x 4,0
2.74
●
31,8 x 4,5
3.03
●
31,8 x 5,0
3.30
●
31,8 x 5,6
3.62
●
31,8 x 6,3
3.96
●
31,8 x 7,1
4.32
●
31,8 x 8,0
4.70
●
33,7 x 2,6
1.99
●
●
●
●
●
33,7 x 2,9
2.20
●
●
●
●
●
33,7 x 3,2
2.41
●
●
●
●
●
33,7 x 3,6
2.67
●
●
33,7 x 4,0
2.93
●
33,7 x 4,5
3.24
●
33,7 x 5,0
3.54
●
33,7 x 5,6
3.88
●
33,7 x 6,3
4.26
●
33,7 x 7,1
4.66
●
33,7 x 8,0
5.07
●
38,0 x 2,6
2.27
●
●
●
38,0 x 2,9
2.51
●
●
●
38,0 x 3,2
2.75
●
38,0 x 3,6
3.05
●
38,0 x 4,0
3.35
●
38,0 x 4,5
3.72
●
38,0 x 5,0
4.07
●
38,0 x 5,6
4.47
●
38,0 x 6,3
4.93
●
38,0 x 7,1
5.41
●
38,0 x 8,0
5.92
●
38,0 x 8,8
6.34
38,0 x 10,0
6.91
42,4 x 2,6
2.55
●
●
●
●
●
42,4 x 2,9
2.82
●
●
●
●
●
42,4 x 3,2
3.09
●
●
●
●
42,4 x 3,6
3.44
●
●
42,4 x 4,0
3.79
●
42,4 x 4,5
4.21
●
42,4 x 5,0
4.61
●
42,4 x 5,6
5.08
●
42,4 x 6,3
5.61
●
42,4 x 7,1
6.18
●
42,4 x 8,0
6.79
●
42,4 x 8,8
7.29
●
42,4 x 10,0
7.99
●
44,5 x 2,6
2.69
●
●
●
●
●
44,5 x 2,9
2.98
●
●
44,5 x 3,2
3.26
●
44,5 x 3,6
3.63
●
44,5 x 4,0
4.00
●
44,5 x 4,5
4.44
●
44,5 x 5,0
4.87
●
44,5 x 5,6
5.37
●
44,5 x 6,3
5.94
●
44,5 x 7,1
6.55
●
44,5 x 8,0
7.20
●
44,5 x 8,8
7.75
●
44,5 x 10,0
8.51
48,3 x 2,6
2.93
●
●
●
●
●
48,3 x 2,9
3.25
●
●
●
●
●
48,3 x 3,2
3.56
●
●
●
●
●
48,3 x 3,6
3.97
●
●
48,3 x 4,0
4.37
●
48,3 x 4,5
4.86
●
48,3 x 5,0
5.34
●
48,3 x 5,6
5.90
●
48,3 x 6,3
6.53
●
48,3 x 7,1
7.21
●
48,3 x 8,0
7.95
●
48,3 x 8,8
8.57
●
48,3 x 10,0
9.45
●
48,3 x 11,0
10.12
●
48,3 x 12,5
11.04
51,0 x 2,6
3.10
●
●
●
●
51,0 x 2,9
3.44
●
●
●
●
51,0 x 3,2
3.77
●
51,0 x 3,6
4.21
●
51,0 x 4,0
4.64
●
51,0 x 4,5
5.16
●
51,0 x 5,0
5.67
●
51,0 x 5,6
6.27
●
51,0 x 6,3
6.94
●
51,0 x 7,1
7.69
●
51,0 x 8,0
8.48
●
51,0 x 8,8
9.16
●
57,0 x 2,9
3.87
●
●
●
57,0 x 3,2
4.25
●
●
●
57,0 x 3,6
4.74
●
57,0 x 4,0
5.23
●
57,0 x 4,5
5.83
●
57,0 x 5,0
6.41
●
57,0 x 5,6
7.10
●
57,0 x 6,3
7.88
●
57,0 x 7,1
8.74
●
57,0 x 8,0
9.67
●
57,0 x 8,8
10.46
●
57,0 x 10,0
11.59
57,0 x 11,0
12.48
57,0 x 12,5
13.72
60,3 x 2,9
4.11
●
●
●
●
●
60,3 x 3,2
4.51
●
●
●
●
●
60,3 x 3,6
5.03
●
●
●
●
●
60,3 x 4,0
5.55
●
●
●
●
●
60,3 x 4,5
6.19
●
●
●
●
●
60,3 x 5,0
6.82
●
●
60,3 x 5,6
7.55
●
●
60,3 x 6,3
8.39
●
60,3 x 7,1
9.32
●
60,3 x 8,0
10.32
●
60,3 x 8,8
11.18
●
●
60,3 x 10,0
12.40
●
●
60,3 x 11,0
13.37
●
●
60,3 x 12,5
14.74
63,5 x 2,9
4.33
●
63,5 x 3,2
4.76
●
63,5 x 3,6
5.32
●
63,5 x 4,0
5.87
●
63,5 x 4,5
6.55
●
63,5 x 5,0
7.21
●
63,5 x 5,6
8.00
●
63,5 x 6,3
8.89
●
63,5 x 7,1
9.88
●
63,5 x 8,0
10.95
●
63,5 x 8,8
11.87
●
63,5 x 10,0
13.19
●
63,5 x 11,0
14.24
●
63,5 x 12,5
15.72
70,0 x 2,9
4.80
●
●
70,0 x 3,2
5.27
●
70,0 x 3,6
5.90
●
70,0 x 4,0
6.51
●
70,0 x 4,5
7.27
●
70,0 x 5,0
8.01
●
70,0 x 5,6
8.89
●
70,0 x 6,3
9.90
●
70,0 x 7,1
11.01
●
70,0 x 8,0
12.23
●
70,0 x 8,8
13.28
●
70,0 x 10,0
14.80
●
70,0 x 11,0
16.01
●
70,0 x 12,5
17.73
●
70,0 x 14,2
19.54
●
76,1 x 2,9
5.24
●
●
●
●
●
76,1 x 3,2
5.75
●
●
●
●
●
76,1 x 3,6
6.44
●
●
●
●
●
76,1 x 4,0
7.11
●
●
●
●
●
76,1 x 4,5
7.95
●
●
●
●
76,1 x 5,0
8.77
●
●
76,1 x 5,6
9.74
●
●
76,1 x 6,3
10.84
●
●
76,1 x 7,1
12.08
●
●
76,1 x 8,0
13.44
●
●
76,1 x 8,8
14.61
●
●
76,1 x 10,0
16.30
●
76,1 x 11,0
17.66
●
76,1 x 12,5
19.61
●
76,1 x 14,2
21.68
82,5 x 3,2
6.26
●
●
●
82,5 x 3,6
7.00
●
●
●
82,5 x 4,0
7.74
●
82,5 x 4,5
8.66
●
82,5 x 5,0
9.56
●
82,5 x 5,6
10.62
●
82,5 x 6,3
11.84
●
82,5 x 7,1
13.20
●
82,5 x 8,0
14.70
●
82,5 x 8,8
15.99
●
82,5 x 10,0
17.88
82,5 x 11,0
19.40
82,5 x 12,5
21.58
82,5 x 14,2
23.92
88,9 x 3,2
6.76
●
●
●
●
●
88,9 x 3,6
7.57
●
●
●
●
●
88,9 x 4,0
8.38
●
●
●
●
●
88,9 x 4,5
9.37
●
●
●
●
●
88,9 x 5,0
10.35
●
●
●
●
●
88,9 x 5,6
11.50
●
●
88,9 x 6,3
12.83
●
●
88,9 x 7,1
14.32
●
●
88,9 x 8,0
15.96
●
●
88,9 x 8,8
17.38
●
●
88,9 x 10,0
19.46
●
●
88,9 x 11,0
21.13
●
●
88,9 x 12,5
23.55
●
88,9 x 14,2
26.16
●
101,6 x 3,6
8.70
●
●
101,6 x 4,0
9.63
●
●
101,6 x 4,5
10.78
●
101,6 x 5,0
11.91
●
101,6 x 5,6
13.26
●
101,6 x 6,3
14.81
●
101,6 x 7,1
16.55
●
101,6 x 8,0
18.47
●
101,6 x 8,8
20.14
●
101,6 x 10,0
22.59
●
101,6 x 11,0
24.58
●
101,6 x 12,5
27.47
101,6 x 14,2
30.61
108,0 x 3,6
9.27
●
108,0 x 4,0
10.26
●
108,0 x 4,5
11.49
●
108,0 x 5,0
12.70
●
108,0 x 5,6
14.14
●
108,0 x 6,3
15.80
●
108,0 x 7,1
17.67
●
108,0 x 8,0
19.73
●
108,0 x 8,8
21.53
●
108,0 x 10,0
24.17
●
108,0 x 11,0
26.31
●
108,0 x 12,5
29.44
●
108,0 x 14,2
32.85
●
108,0 x 16,0
36.30
●
108,0 x 17,5
39.06
●
114,3 x 3,6
9.83
●
●
●
●
●
114,3 x 4,0
10.88
●
●
●
●
●
114,3 x 4,5
12.19
●
●
●
●
●
114,3 x 5,0
13.48
●
●
●
●
●
114,3 x 5,6
15.01
●
●
●
●
●
114,3 x 6,3
16.78
●
●
●
●
●
114,3 x 7,1
18.77
●
●
●
●
●
114,3 x 8,0
20.97
●
●
●
114,3 x 8,8
22.90
●
●
●
114,3 x 10,0
25.72
●
●
114,3 x 11,0
28.02
●
●
114,3 x 12,5
31.38
●
114,3 x 14,2
35.05
●
114,3 x 16,0
38.79
●
114,3 x 17,5
41.78
127,0 x 4,0
12.13
●
127,0 x 4,5
13.59
●
127,0 x 5,0
15.04
●
127,0 x 5,6
16.77
●
127,0 x 6,3
18.75
●
127,0 x 7,1
20.99
●
127,0 x 8,0
23.48
●
127,0 x 8,8
25.65
●
127,0 x 10,0
28.85
●
127,0 x 11,0
31.47
●
127,0 x 12,5
35.30
●
127,0 x 14,2
39.50
127,0 x 16,0
43.80
127,0 x 17,5
47.26
133,0 x 4,0
12.73
●
●
133,0 x 4,5
14.26
●
●
133,0 x 5,0
15.78
●
●
133,0 x 5,6
17.59
●
●
133,0 x 6,3
19.69
●
●
133,0 x 7,1
22.04
●
133,0 x 8,0
24.66
●
133,0 x 8,8
26.95
●
133,0 x 10,0
30.33
●
133,0 x 11,0
33.10
●
133,0 x 12,5
37.15
●
133,0 x 14,2
41.60
●
133,0 x 16,0
46.17
●
133,0 x 17,5
49.85
●
139,7 x 4
13.39
●
●
●
●
●
139,7 x 4,5
15.00
●
●
●
●
●
139,7 x 5,0
16.61
●
●
●
●
●
139,7 x 5,6
18.52
●
●
●
●
●
139,7 x 6,3
20.73
●
●
●
●
●
139,7 x 7,1
23.22
●
●
●
●
●
139,7 x 8,0
25.98
●
●
●
●
139,7 x 8,8
28.41
●
●
●
●
139,7 x 10,0
31.99
●
●
139,7 x 11,0
34.91
●
139,7 x 12,5
39.21
●
●
139,7 x 14,2
43.95
●
●
139,7 x 16,0
48.81
●
139,7 x 17,5
52.74
●
139,7 x 20,0
59.04
152,4 x 4,5
16.41
●
●
●
152,4 x 5,0
18.18
●
●
152,4 x 5,6
20.27
●
●
152,4 x 6,3
22.70
●
152,4 x 7,1
25.44
●
152,4 x 8,0
28.49
●
152,4 x 8,8
31.16
●
152,4 x 10,0
35.12
●
152,4 x 11,0
38.36
●
152,4 x 12,5
43.13
●
152,4 x 14,2
48.40
●
152,4 x 16,0
53.82
●
152,4 x 17,5
58.22
152,4 x 20,0
65.30
159,0 x 4,5
17.15
●
159,0 x 5,0
18.99
●
159,0 x 5,6
21.19
●
159,0 x 6,3
23.72
●
159,0 x 7,1
26.60
●
159,0 x 8,0
29.79
●
159,0 x 8,8
32.60
●
159,0 x 10,0
36.75
●
159,0 x 11,0
40.15
159,0 x 12,5
45.16
●
159,0 x 14,2
50.71
●
159,0 x 16,0
56.43
159,0 x 17,5
61.07
159,0 x 20,0
68.56
168,3 x 4,5
18.18
●
●
●
●
●
168,3 x 5,0
20.14
●
●
●
●
●
168,3 x 5,6
22.47
●
●
●
●
●
168,3 x 6,3
25.17
●
●
●
●
●
168,3 x 7,1
28.23
●
●
●
●
●
168,3 x 8,0
31.63
●
●
●
●
●
168,3 x 8,8
34.61
●
●
●
●
168,3 x 10,0
39.04
●
●
●
●
●
168,3 x 11,0
42.67
●
●
●
●
168,3 x 12,5
48.03
●
●
●
168,3 x 14,2
53.96
●
●
●
168,3 x 16,0
60.10
●
●
●
168,3 x 17,5
65.08
●
●
168,3 x 20,0
73.15
●
177,8 x 5,0
21.31
●
●
●
●
●
177,8 x 5,6
23.78
●
●
●
177,8 x 6,3
26.65
●
177,8 x 7,1
29.89
●
177,8 x 8,0
33.50
●
177,8 x 8,8
36.68
●
177,8 x 10,0
41.38
●
177,8 x 11,0
45.25
●
177,8 x 12,5
50.96
●
177,8 x 14,2
57.29
●
177,8 x 16,0
63.84
177,8 x 17,5
69.18
177,8 x 20,0
77.83
177,8 x 22,2
85.19
193,7 x 5,6
25.98
●
193,7 x 6,3
29.12
●
193,7 x 7,1
32.67
●
●
●
●
193,7 x 8,0
36.64
●
193,7 x 8,8
40.13
●
193,7 x 10,0
45.30
●
193,7 x 11,0
49.56
●
193,7 x 12,5
55.86
●
193,7 x 14,2
62.86
193,7 x 16,0
70.12
●
193,7 x 17,5
76.04
193,7 x 20,0
85.67
193,7 x 22,2
93.89
219,1 x 6,3
33.06
●
●
●
●
●
219,1 x 7,1
37.12
●
●
●
●
●
219,1 x 8,0
41.65
●
●
●
●
●
219,1 x 8,8
45.64
●
●
●
●
●
219,1 x 10,0
51.57
●
●
●
●
●
219,1 x 11,0
56.45
●
●
●
●
●
219,1 x 12,5
63.69
●
●
●
●
●
219,1 x 14,2
71.75
●
●
●
●
219,1 x 16,0
80.14
●
219,1 x 17,5
87.01
●
●
●
219,1 x 20,0
98.20
●
219,1 x 22,2
107.80
●
219,1 x 25,0
119.67
●
●
●
●
219,1 x 28,0
131.96
●
219,1 x 30,0
139.90
●
219,1 x 32,0
147.65
●
244,5 x 6,3
37.01
●
●
244,5 x 7,1
41.57
●
244,5 x 8,0
46.66
●
244,5 x 8,8
51.15
●
244,5 x 10,0
57.83
●
244,5 x 11,0
63.34
●
244,5 x 12,5
71.52
●
244,5 x 14,2
80.65
●
244,5 x 16,0
90.16
244,5 x 17,5
97.97
244,5 x 20,0
110.73
●
244,5 x 22,2
121.71
244,5 x 25,0
135.33
244,5 x 28,0
149.50
244,5 x 30,0
158.70
267,0 x 6,3
40.50
●
267,0 x 7,1
45.51
●
267,0 x 8,0
51.10
●
267,0 x 8,8
56.03
●
267,0 x 10,0
63.38
●
●
●
●
267,0 x 11,0
69.45
●
267,0 x 12,5
78.45
●
267,0 x 14,2
88.53
●
267,0 x 16,0
99.04
●
267,0 x 17,5
107.68
●
267,0 x 20,0
121.83
●
267,0 x 22,2
134.02
●
267,0 x 25,0
149.20
●
267,0 x 28,0
165.03
267,0 x 30,0
175.34
273,0 x 6,3
41.44
●
●
●
●
●
273,0 x 7,1
46.56
●
●
●
●
●
273,0 x 8,0
52.28
●
●
●
●
●
273,0 x 8,8
57.34
●
●
●
●
●
273,0 x 10,0
64.86
●
●
●
●
●
273,0 x 11,0
71.07
●
●
●
●
●
273,0 x 12,5
80.30
●
●
●
●
●
273,0 x 14,2
90.63
●
●
●
●
●
273,0 x 16,0
101.41
●
●
273,0 x 17,5
110.27
●
●
273,0 x 20,0
124.79
●
●
273,0 x 22,2
137.31
●
273,0 x 25,0
152.90
●
273,0 x 28,0
169.18
273,0 x 30,0
179.78
298,5 x 7,1
51.02
●
●
298,5 x 8,0
57.31
●
●
298,5 x 8,8
62.87
●
●
298,5 x 10,0
71.15
●
298,5 x 11,0
77.99
●
298,5 x 12,5
88.16
●
298,5 x 14,2
99.56
●
298,5 x 16,0
111.47
●
298,5 x 17,5
121.27
●
298,5 x 20,0
137.36
●
298,5 x 22,2
151.27
●
298,5 x 25,0
168.62
298,5 x 28,0
186.79
298,5 x 30,0
198.65
323,9 x 7,1
55.47
●
●
●
●
●
323,9 x 8,0
62.32
●
●
●
●
●
323,9 x 8,8
68.38
●
●
●
●
●
323,9 x 10,0
77.41
●
●
●
●
●
323,9 x 11,0
84.88
●
●
●
●
●
323,9 x 12,5
95.99
●
●
●
●
323,9 x 14,2
108.45
●
●
●
323,9 x 16,0
121.49
●
●
323,9 x 17,5
132.23
●
●
●
323,9 x 20,0
149.89
●
323,9 x 22,2
165.18
●
323,9 x 25,0
184.28
●
●
●
323,9 x 28,0
204.33
323,9 x 30,0
217.44
355,6 x 8,0
68.58
●
●
355,6 x 8,8
75.26
●
●
355,6 x 10,0
85.23
●
●
355,6 x 11,0
93.48
●
355,6 x 12,5
105.77
●
355,6 x 14,2
119.56
●
355,6 x 16,0
134.00
●
355,6 x 17,5
145.92
●
355,6 x 20,0
165.53
●
355,6 x 22,2
182.53
●
355,6 x 25,0
203.83
●
355,6 x 28,0
226.22
●
355,6 x 30,0
240.89
355,6 x 32,0
255.37
368,0 x 8,0
71.03
●
368,0 x 8,8
77.95
●
368,0 x 10,0
88.29
●
368,0 x 11,0
96.85
●
●
368,0 x 12,5
109.59
●
●
●
●
368,0 x 14,2
123.90
●
368,0 x 16,0
138.89
●
368,0 x 17,5
151.27
●
368,0 x 20,0
171.64
●
368,0 x 22,2
189.32
●
368,0 x 25,0
211.47
●
368,0 x 28,0
234.78
●
368,0 x 30,0
250.07
●
368,0 x 32,0
265.16
406,4 x 8,8
86.29
●
●
●
●
●
406,4 x 10,0
97.76
●
●
●
●
●
406,4 x 11,0
107.26
●
●
●
406,4 x 12,5
121.43
●
●
●
406,4 x 14,2
137.35
●
●
●
406,4 x 16,0
154.05
●
406,4 x 17,5
167.84
●
406,4 x 20,0
190.58
●
●
●
406,4 x 22,2
210.34
●
406,4 x 25,0
235.15
●
406,4 x 28,0
261.29
●
406,4 x 30,0
278.48
●
406,4 x 32,0
295.46
419,0 x 10,0
100.87
●
●
●
419,0 x 11,0
110.68
●
●
●
419,0 x 12,5
125.31
●
●
●
419,0 x 14,2
141.76
●
419,0 x 16,0
159.02
●
419,0 x 17,5
173.28
●
419,0 x 20,0
196.80
●
419,0 x 22,2
217.24
419,0 x 25,0
242.92
419,0 x 28,0
269.99
419,0 x 30,0
287.80
419,0 x 32,0
305.41
457,0 x 10,0
110.24
●
457,0 x 11,0
120.99
●
457,0 x 12,5
137.03
●
457,0 x 14,2
155.07
●
457,0 x 16,0
174.01
●
457,0 x 17,5
189.68
●
457,0 x 20,0
215.54
●
457,0 x 22,2
238.05
●
457,0 x 25,0
266.34
●
457,0 x 28,0
296.23
●
457,0 x 30,0
315.91
●
457,0 x 32,0
335.40
●
508,0 x 11,0
134.82
●
●
●
●
●
508,0 x 12,5
152.75
●
●
●
●
●
508,0 x 14,2
172.93
●
●
●
●
●
508,0 x 16,0
194.14
●
●
508,0 x 17,5
211.69
●
●
508,0 x 20,0
240.70
●
●
508,0 x 22,2
265.97
●
508,0 x 25,0
297.79
●
●
508,0 x 28,0
331.45
508,0 x 30,0
353.65
●
508,0 x 32,0
375.64
559,0 x 12,5
168.47
●
559,0 x 14,2
190.79
●
559,0 x 16,0
214.26
●
559,0 x 17,5
233.70
●
559,0 x 20,0
265.85
●
●
●
559,0 x 22,2
293.89
●
559,0 x 25,0
329.23
●
559,0 x 28,0
366.67
●
559,0 x 30,0
391.38
559,0 x 32,0
415.89
559,0 x 70,0
844.16
610,0 x 12,5
184.19
●
●
610,0 x 14,2
208.65
●
●
610,0 x 16,5
234.38
●
●
610,0 x 17,5
255.71
●
610,0 x 20,0
291.01
●
610,0 x 22,2
321.81
●
610,0 x 25,0
360.67
●
610,0 x 28,0
401.88
●
610,0 x 29,0
429.11
●
610,0 x 30,0
456.14
610,0 x 31,0
509.61