Pipes are usually used to transport media over longer distances. Liquids, gases, but also solids are moved here.
Stainless steel and duplex products are used for applications in the chemical and paper industry as well as in apparatus engineering.
Heat resistant tubes – partly up to 1150°C applications are used in industrial furnace construction, wire industry but also in steel production in blast furnaces.
Seamless stainless steel pipes EN 10216-5,
certificate EN 10204/3.1 as well as 3.1 A TÜV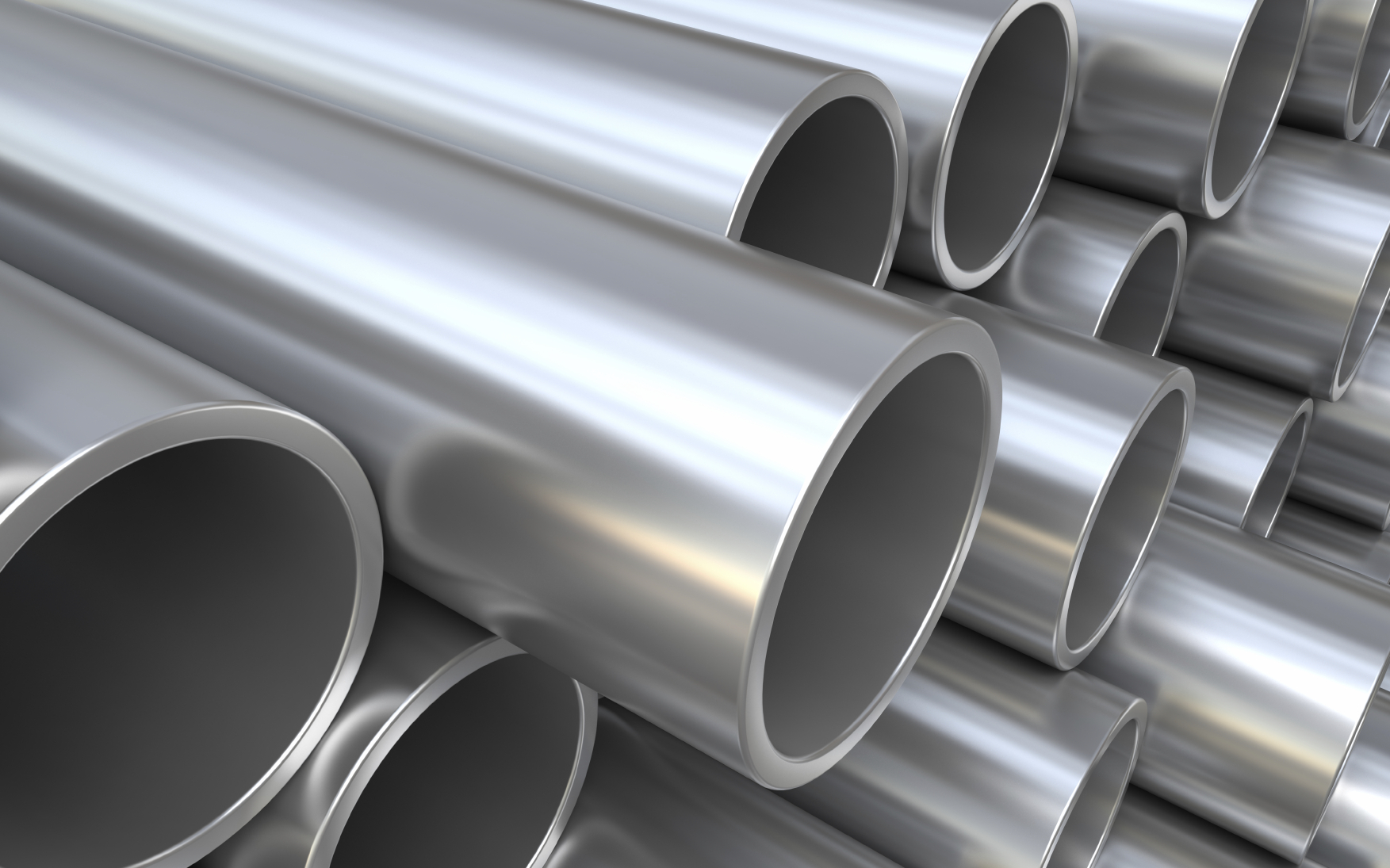 Overview
Outer diameter 4.00 – 457 mm
Wall thicknesses 1.0 – 35 mm
Lengths 5000 – 7000 mm
Materials
1.4301 / TP304/TP304L
1.4404 / TP316L
1.4541 / TP321
1.4571 / TP316Ti
1.4878 / TP321H
1.4539 / TP904L
1.4547 / 254SMO
Nahtlose Edelstahlrohre EN 10216-5/DIN 17456/17458 bzw. ASTM A 312, APZ EN 10204/3.1 B
Abmessung
Gewicht
kg/mtr.
1.4301
1.4541
1.4571
1.4404
4,00 x 1,00
0.07
●
●
5,00 x 1,00
0.1
●
●
6,00 x 1,00
0.12
●
●
●
6,00 x 1,50
0.16
●
●
●
6,00 x 2,00
0.2
●
8,00 x 1,00
0.17
●
●
●
8,00 x 1,50
0.24
●
●
●
8,00 x 2,00
0.3
●
●
10,00 x 1,00
0.22
●
●
●
●
10,00 x 1,50
0.32
●
●
●
●
10,00 x 2,00
0.4
●
●
●
●
10,00 x 2,50
0.47
●
10,20 x 2,00
0.41
●
●
12,00 x 1,00
0.27
●
●
●
●
12,00 x 1,50
0.39
●
●
●
●
12,00 x 2,00
0.5
●
●
●
●
12,00 x 2,50
0.59
●
●
12,00 x 3,00
0.67
●
13,00 x 1,00
0.3
●
●
●
13,00 x 1,50
0.43
●
13,50 x 1,60
0.47
●
13,50 x 2,30
0.64
●
●
●
13,50 x 2,90
0.76
●
●
●
14,00 x 1,00
0.32
●
●
14,00 x 1,50
0.47
●
●
14,00 x 2,00
0.6
●
●
●
14,00 x 2,50
0.72
●
●
14,00 x 3,00
0.82
●
●
15,00 x 1,00
0.35
●
●
15,00 x 1,50
0.5
●
●
●
15,00 x 2,00
0.65
●
●
●
15,00 x 2,50
0.78
●
●
●
16,00 x 1,00
0.37
●
●
●
16,00 x 1,50
0.54
●
●
●
16,00 x 2,00
0.7
●
●
●
●
16,00 x 2,50
0.84
●
●
●
16,00 x 3,00
0.97
●
●
●
17,20 x 1,60
0.62
●
●
17,20 x 2,00
0.76
●
17,20 x 2,30
0.85
●
●
17,20 x 2,60
0.95
●
17,20 x 2,90
1.03
●
●
17,20 x 3,20
1.12
●
18,00 x 1,00
0.42
●
●
●
●
18,00 x 1,50
0.62
●
●
●
●
18,00 x 2,00
0.8
●
●
●
●
18,00 x 2,50
0.97
●
18,00 x 3,00
1.12
●
●
18,00 x 4,00
1.4
●
20,00 x 1,00
0.47
●
●
●
20,00 x 1,50
0.69
●
●
●
20,00 x 2,00
0.9
●
●
●
●
20,00 x 2,50
1.09
●
●
●
20,00 x 3,00
1.27
●
●
●
20,00 x 4,00
1.6
●
●
20,00 x 5,00
1.87
●
21,30 x 1,60
0.78
●
●
●
21,30 x 2,00
0.96
●
●
●
21,30 x 2,60
1.21
●
●
●
21,30 x 2,90
1.33
●
●
21,30 x 3,20
1.45
●
●
●
21,34 x 2,11
1.01
●
●
21,34 x 3,73
1.64
●
●
●
22,00 x 1,00
0.52
●
22,00 x 1,50
0.77
●
●
●
22,00 x 2,00
1
●
●
●
22,00 x 2,50
1.22
●
●
22,00 x 3,00
1.42
●
●
22,00 x 4,00
1.8
●
●
24,00 x 2,00
1.1
●
25,00 x 1,00
0.6
●
●
●
25,00 x 1,50
0.88
●
25,00 x 2,00
1.15
●
●
●
25,00 x 2,50
1.4
●
●
●
25,00 x 3,00
1.65
●
●
●
25,00 x 4,00
2.1
●
●
25,00 x 5,00
2.5
●
●
●
26,67 x 2,87
1.71
●
●
26,67 x 3,91
2.22
●
●
●
26,90 x 1,60
1.01
●
●
26,90 x 2,00
1.24
●
●
●
●
26,90 x 2,30
1.41
●
●
26,90 x 2,60
1.58
●
●
●
●
26,90 x 2,90
1.74
●
●
26,90 x 3,20
1.89
●
●
●
28,00 x 1,00
0.67
●
28,00 x 1,50
0.99
●
●
28,00 x 2,00
1.3
●
●
●
28,00 x 3,00
1.87
●
28,00 x 4,00
2.4
●
28,00 x 5,00
2.88
●
●
30,00 x 1,00
0.72
●
30,00 x 1,50
1.07
●
●
30,00 x 2,00
1.4
●
●
●
30,00 x 2,50
1.72
●
●
30,00 x 2,60
1.78
●
●
30,00 x 3,00
2.02
●
●
●
30,00 x 4,00
2.6
●
●
30,00 x 5,00
3.13
●
●
●
32,00 x 1,50
1.14
●
32,00 x 2,00
1.5
●
●
●
32,00 x 3,00
2.17
●
●
33,40 x 4,55
3.28
●
●
33,70 x 2,00
1.58
●
●
●
33,70 x 2,60
2.02
●
●
●
●
33,70 x 2,90
2.23
●
●
●
33,70 x 3,20
2.44
●
●
●
●
33,70 x 3,60
2.71
●
●
33,70 x 4,05
3
●
●
34,00 x 2,00
1.6
●
35,00 x 2,00
1.65
●
●
●
35,00 x 2,50
2.03
●
●
35,00 x 4,00
3.1
●
36,00 x 2,00
1.7
●
●
38,00 x 1,50
1.37
●
●
38,00 x 2,00
1.8
●
38,00 x 2,50
2.22
●
●
38,00 x 2,60
2.3
●
●
●
38,00 x 3,00
2.62
●
●
●
38,00 x 4,00
3.4
●
●
38,00 x 5,00
4.13
●
●
40,00 x 1,00
0.97
●
40,00 x 1,50
1.44
●
40,00 x 2,00
1.9
●
●
●
40,00 x 2,50
2.34
●
●
●
40,00 x 3,00
2.77
●
●
●
40,00 x 4,00
3.6
●
40,00 x 5,00
4.38
●
●
●
42,16 x 4,85
4.53
●
●
42,40 x 2,00
2.02
●
●
●
42,40 x 2,60
2.59
●
●
●
●
42,40 x 3,20
3.14
●
●
●
●
42,40 x 3,60
3.49
●
●
●
42,40 x 4,05
3.88
●
●
●
●
44,50 x 2,00
2.12
●
●
44,50 x 2,50
2.62
●
●
44,50 x 2,60
2.72
●
44,50 x 2,90
3.02
●
●
48,26 x 3,68
4.1
●
48,26 x 5,08
5.49
●
●
48,30 x 2,00
2.31
●
●
●
48,30 x 2,60
2.97
●
●
●
●
48,30 x 2,90
3.29
●
●
●
48,30 x 3,20
3.61
●
●
●
●
48,30 x 3,60
4.02
●
●
●
48,30 x 4,05
4.48
●
●
50,00 x 1,50
1.82
●
50,00 x 2,00
2.4
●
●
●
50,00 x 2,50
2.97
●
50,00 x 3,00
3.53
●
50,00 x 5,00
5.63
●
●
●
50,00 x 6,00
6.61
●
51,00 x 2,60
3.15
●
●
51,00 x 4,00
4.7
●
52,00 x 2,00
2.5
●
54,00 x 2,00
2.6
●
●
●
54,00 x 3,00
3.83
●
55,00 x 2,50
3.28
●
57,00 x 2,00
2.75
●
57,00 x 2,50
3.41
●
57,00 x 2,90
3.92
●
●
●
57,00 x 4,00
5.3
●
57,00 x 5,00
6.51
●
57,00 x 6,50
8.21
●
60,30 x 2,00
2.92
●
●
●
60,30 x 2,60
3.75
●
●
●
●
60,30 x 2,90
4.16
●
●
●
●
60,30 x 3,20
4.57
●
●
●
●
60,30 x 3,60
5.11
●
●
●
●
60,30 x 4,00
5.63
●
●
60,30 x 4,50
6.28
●
●
60,30 x 5,00
6.92
●
●
●
60,30 x 8,00
10.48
●
60,33 x 2,77
3.99
●
●
●
60,33 x 3,91
5.52
●
●
●
60,33 x 5,54
7.59
●
●
●
60,33 x 8,74
11.29
●
63,50 x 2,60
3.96
●
●
64,00 x 2,00
3.1
●
●
65,00 x 2,50
3.91
●
65,00 x 3,50
5.39
●
●
70,00 x 2,00
3.4
●
●
70,00 x 2,90
4.87
●
●
70,00 x 4,00
6.61
●
70,00 x 5,00
8.13
●
73,03 x 3,05
5.34
●
●
●
●
73,03 x 5,16
8.77
●
●
●
●
73,03 x 7,01
11.58
●
●
●
●
73,03 x 9,53
15.15
●
●
●
●
75,00 x 2,50
4.53
●
76,10 x 2,00
3.71
●
●
76,10 x 2,30
4.25
●
●
●
76,10 x 2,60
4.78
●
●
●
76,10 x 2,90
5.31
●
●
●
76,10 x 3,60
6.53
●
●
●
76,10 x 3,60
7.22
●
●
76,10 x 4,50
8.06
●
●
76,10 x 5,00
8.9
●
76,10 x 6,30
11.01
●
80,00 x 2,00
3.9
●
80,00 x 2,50
4.85
●
80,00 x 4,00
7.61
●
●
80,00 x 5,00
9.39
●
85,00 x 2,50
5.16
●
88,90 x 2,00
4.35
●
●
88,90 x 2,30
4.98
●
●
●
88,90 x 2,50
5.4
●
●
88,90 x 2,60
5.61
●
●
●
88,90 x 2,90
6.24
●
●
●
88,90 x 3,00
6.55
●
●
●
88,90 x 3,20
6.86
●
●
●
●
88,90 x 4,00
8.6
●
●
●
88,90 x 4,50
9.51
●
●
88,90 x 5,49
11.46
●
●
●
●
88,90 x 7,62
15.5
●
●
●
●
88,90 x 11,13
21.67
●
●
●
88,90 x 15,24
28.11
●
●
●
101,60 x 3,05
7.52
●
●
●
101,60 x 4,05
9.89
●
●
101,60 x 5,74
13.77
●
●
101,60 x 8,08
18.92
●
●
108,00 x 2,90
7.63
●
●
108,00 x 3,00
7.88
●
●
108,00 x 4,00
10.41
●
●
114,30 x 2,60
7.27
●
●
114,30 x 3,00
8.49
●
●
●
114,30 x 3,60
9.97
●
●
●
114,30 x 4,50
12.37
●
●
●
114,30 x 6,02
16.32
●
●
●
●
114,30 x 8,56
22.66
●
●
●
114,30 x 13,49
34.05
●
●
●
114,30 x 17,12
41.66
●
●
●
121,00 x 4,00
11.71
●
127,00 x 4,00
12.32
●
133,00 x 4,00
12.92
●
●
133,00 x 5,00
16.02
●
133,00 x 6,30
19.98
●
139,70 x 4,00
13.59
●
●
139,70 x 5,00
16.86
●
●
139,70 x 7,10
23.57
●
●
139,70 x 10,00
32.48
●
●
141,30 x 6,55
22.1
●
●
●
●
141,30 x 9,53
31.44
●
●
159,00 x 4,50
17.4
●
●
168,30 x 3,40
14.04
●
●
●
●
168,30 x 4,50
18.45
●
●
168,30 x 5,00
20.44
●
●
168,30 x 7,11
28.69
●
●
●
●
168,30 x 10,97
43.22
●
●
●
●
168,30 x 14,27
55.04
●
●
168,30 x 18,24
68.54
●
●
168,30 x 21,95
80.44
●
●
219,10 x 6,35
33.83
●
●
●
219,10 x 8,18
43.2
●
●
●
●
219,10 x 12,70
65.63
●
●
●
●
219,10 x 15,09
77.09
●
●
219,10 x 18,26
91.83
●
●
219,10 x 23,01
112.98
●
●
273,00 x 6,35
42.39
●
273,00 x 9,27
64.1
●
●
●
●
273,00 x 12,70
82.2
●
●
●
●
273,00 x 15,09
97.45
●
●
273,00 x 25,40
157.48
●
●
●
273,00 x 28,58
174.91
●
●
●
323,90 x 9,52
74.94
●
●
323,90 x 12,70
98.94
●
●
●
●
323,90 x 14,27
110.64
●
●
●
323,90 x 17,48
134.1
●
●
●
323,90 x 25,40
189.85
●
●
●
323,90 x 28,58
211.34
●
●
323,90 x 33,32
242.44
●
●
355,60 x 9,52
82.5
●
●
●
355,60 x 12,70
109.04
●
●
●
406,40 x 9,52
94.61
●
●
406,40 x 12,70
125.2
●
●
●
●
406,40 x 17,48
170.23
●
●
●
406,40 x 21,44
206.67
●
●
406,40 x 30,96
134.12
●
●
●
457,20 x 14,27
158.27
●
457,20 x 34,92
369.24
●